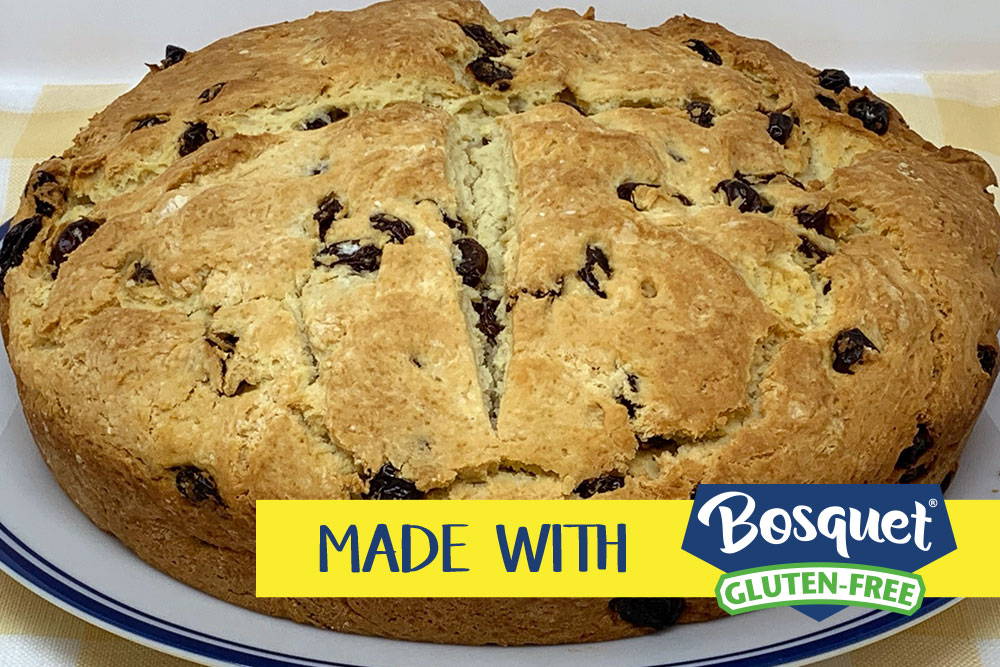 Use Bosquet Gluten-Free All-Purpose Baking mix to make this moist and delicious Irish soda bread!
---
Ingredients:
4 cups Bosquet Gluten-Free all-purpose baking mix

3/4 cup white sugar

1 teaspoon salt

1 teaspoon baking powder

1 teaspoon baking soda

1/2 cup butter, at room temperature

1 1/2 cups raisins

1 1/2 cups buttermilk, at room temperature

3 eggs, at room temperature
Instructions:
Preheat oven to 350 degrees F (175 degrees C). Grease a 9-inch cake pan.

Stir together the flour, sugar, salt, baking powder, and baking soda in a large bowl. Using a pastry cutter, cut the butter gently into the flour mixture until well combined, and stir in the raisins. In another bowl, whisk the buttermilk and eggs together; lightly beat the buttermilk mixture into the flour mixture. Place the dough into the prepared cake pan.

Bake in the preheated oven until the bread has risen and the top is golden brown, 45 minutes to 1 hour. A knife inserted into the center of the bread should come out clean. Cool the bread in the pan on a wire rack for 10 minutes before removing. Serve warm.