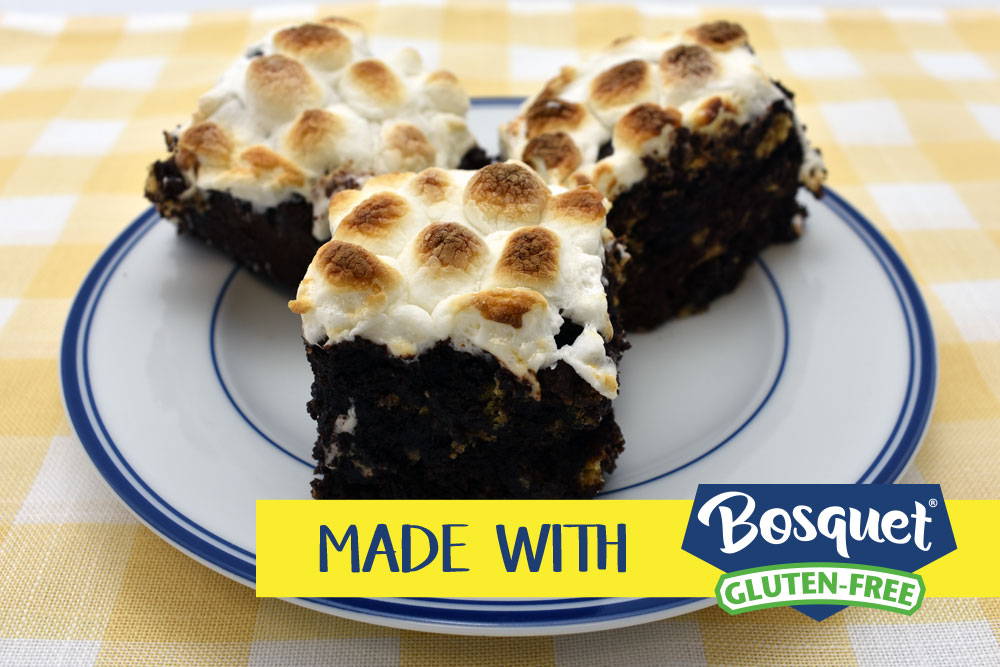 Use Bosquet Gluten-free Chocolate Chip Brownie Mix to make these rich, decadent chocolate smores brownies.
---
Ingredients:
• 1 Bag Bosquet Gluten-Free Chocolate Chip Brownie Mix
• 2 eggs, large
• 3 Tbsp. water
• ¼ cup vegetable oil
• 1 cup 'broken-up' gluten-free graham crackers
• 2 cups gluten-free mini marshmallows
Instructions:
1.Preheat oven to 350°F
2. Prepare Bosquet Gluten-Free Brownie mix as instructed on package.
3. Add 'broken-up' gluten-free graham crackers to batter and mix well.
4. Evenly pour mixture into greased 8-inch x 8-inch baking pan.
5. Bake 30-35 minutes or until toothpick inserted in center of baking pan comes out clean.
6. When the brownies are finished baking and still warm, top with gluten-free mini marshmallows and broil until golden.
7. Once brownies are cool, cut them into squares using a lightly greased kitchen knife.
DO NOT EAT RAW BROWNIE BATTER