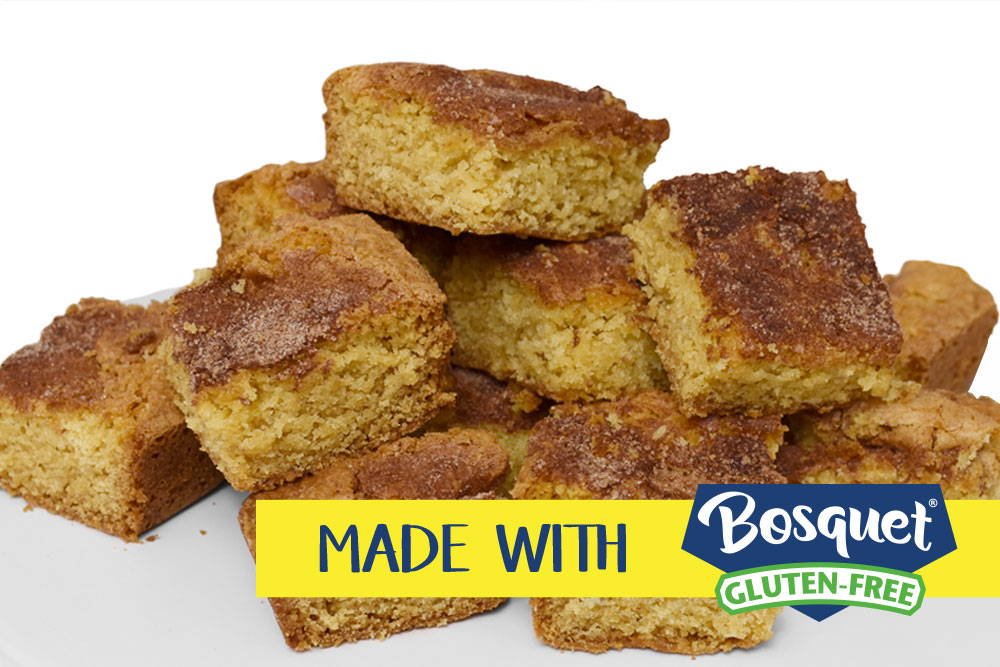 Use Bosquet Gluten-free All-Purpose Baking Mix to make these great cinnamon sugar cookie squares.
---
Ingredients:
• 3 cups Bosquet Gluten-Free all-purpose baking mix
• ½ cup softened unsalted butter
• 2 cups granulated sugar
• ½ cup canola oil
• 2 large eggs
• ½ cup milk
• 1 teaspoon vanilla extract
• 1 teaspoon salt
• 1 teaspoon baking soda
• ½ cup cinnamon sugar
Directions:
• Preheat oven to 350°F
• Grease an 11x13 baking pan.
• Add butter, sugar, oil, eggs, vanilla, and milk to a bowl and use an electric mixer to beat at medium speed.
• Reduce mixer speed to low, then add flour mix, salt, and baking soda, mixing well.
• Pour batter into the pan, making sure to spread evenly. Sprinkle with cinnamon sugar.
• Bake for 35 minutes, or until the edges are light brown. Allow to rest for 10 minutes, then cut into squares.